People with cancer more worried about cost of living than diagnosis
Wednesday 24 August 2022
---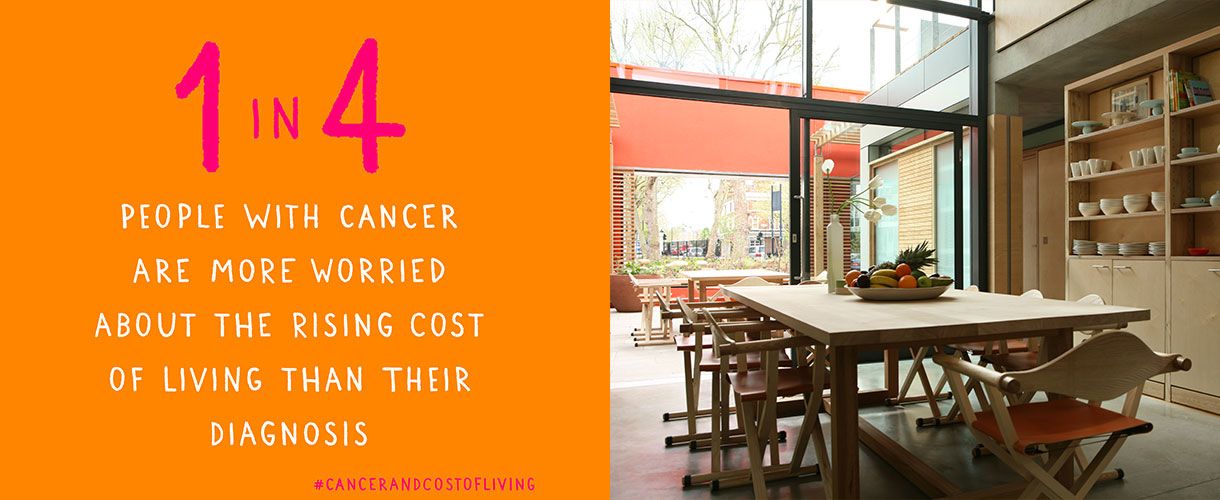 A shocking new survey has revealed that well over a quarter (29%) of people with a cancer diagnosis are more worried about the cost of living crisis than their cancer. Over three quarters (77%) feel that the crisis is affecting their chances of successful treatment for cancer.
---
The OnePoll* survey, polled 500 people currently living with cancer.
80% of people with cancer also said they are worried about the cost of travel to their hospital appointments with over a third (34%) saying they worry 'very much'

Over half (55%) of those surveyed also said they think they will struggle to pay for food this winter and two thirds (67%) think heating bills will be a problem. 
At our centres, we are hearing about people with cancer struggling to go to appointments because of travel costs and/or asking if they can end treatment early so they can return to work because they can't afford to be off any longer.
 
Cost of living overshadows living with cancer
 
Our Chief Executive Dame Laura Lee said: It is truly shocking that people living with cancer – which is possibly the hardest, most frightening experience of their lives – are now so worried about money that it is overshadowing the fact they are living with cancer.

Many even feel the current crisis will impact their chances of successful treatment.

The situation is clearly only going to get worse as the cost of fuel, food and heating continue to rise in the autumn. We know people with cancer are harder hit by the cost of living crisis. They need to use more heating, they are living on reduced incomes and paying to travel for treatment.

We also know people are returning to work too early and even missing appointments because they can't survive on benefits. This too can have devastating consequences.

This is simply wrong. People with cancer need to be able to focus on treatment.

At our 24 UK centres we have experts to help if someone is worried about money as well as professional staff to help with eating well on a budget, stress management and much more. We are here for you.

Yamin's story 


Yasmin, 57, from West London has secondary breast cancer and had to give up working for British Airways – a job she had been in for 20 years due to ill health. 
She is struggling trying to live on benefits and says it's an experience she has found humiliating. This has been greatly exacerbated by the recent cost of living crisis.
Yasmin said: Physically I am doing ok, the side effects of the drugs I need to take are not too bad, but mentally I have been affected.

Applying for benefits has been humiliating and it was not something I asked for. I never asked for cancer, I never asked to lose my job. Claiming benefits is such an intimidating process. 

I live by myself. My nephew in Canada invited me to stay with him over Christmas in 2021 and paid for my flight. He and his wife wanted to look after me and make sure I would not be alone for Christmas.

It was a very happy time, however, when I came back my PIP claim was rejected by the DWP when they learnt that I had travelled to Canada. They said I could not be that bad because I had managed to get on a plane, and they wouldn't give me anything. I couldn't believe I had gone to Canada for support and this was being used against me. It was so humiliating.

Thankfully, Zoe, the benefits adviser at Maggie's in West London helped me to appeal this decision. I just couldn't have done it by myself, I was not in my right mind. We actually had to do this twice before I was awarded any money.  

My income is now my PIP and Employment Support Allowance. I am learning to live differently after decades of having a good income. I have a flat in Uxbridge and I have been there for ten years.

When I lost my job, the council began paying my rent to my private landlord. Their rate is lower than what I used to pay (around £800 compared to £1,000). The landlord is not happy about that, so I am just hoping that he won't kick me out.  

I am living on essentials and never buy clothing. Things are definitely getting worse.

I go to the supermarket at around 6pm to buy the reduced bread, I'll freeze half because I can't afford to buy it fresh anymore.

If you could come and see how I live, I don't think you would believe it. Little things make a really big difference.

Worried about money 
 
Melanie Bunce, Benefits Advisor for Maggie's Fife, said: I have been a Benefits Advisor for 25 years and this current situation is the worst I have ever seen.

The fact is that even very ordinary situations are now becoming impossible for people with cancer. 

People who could have managed a year ago are now facing stark choices between eating, heating and travel to hospital appointments – and particularly badly hit are those in low income jobs.

The stories we are hearing in our centres have become so much more desperate in the last six months and it is only going to get worse.
How we can help

We're have expert staff in our centres available to help you. 

Our coverage 

Please see some of the coverage generated on the back of our OnePoll survey looking at how worried people with cancer are about the cost of living crisis. 
We also appeared on Sky News, LBC, STV's 6 o'clock news and news bulletins running throughout the day on Classic FM, Heart, Capital, Smooth, Radio X and Gold.
---
*Research used must state as a reference
OnePoll surveyed 500 respondents from across the UK from 22 July 2022 - 1 August 2022. The survey was conducted online using panel members who are credited to participate in surveys. Respondents who are currently living with cancer were targeted using screening questions and profile data in order to ensure the correct demographic was achieved.
Find a centre
To find your nearest Maggie's centre, enter your postcode or town below.
Keep in touch
Stay up to date with our news and fundraising by signing up for our newsletter.
Sign up