Cardiff family ensure psychological support for people with cancer, in memory of son
Thursday 18 August 2022
---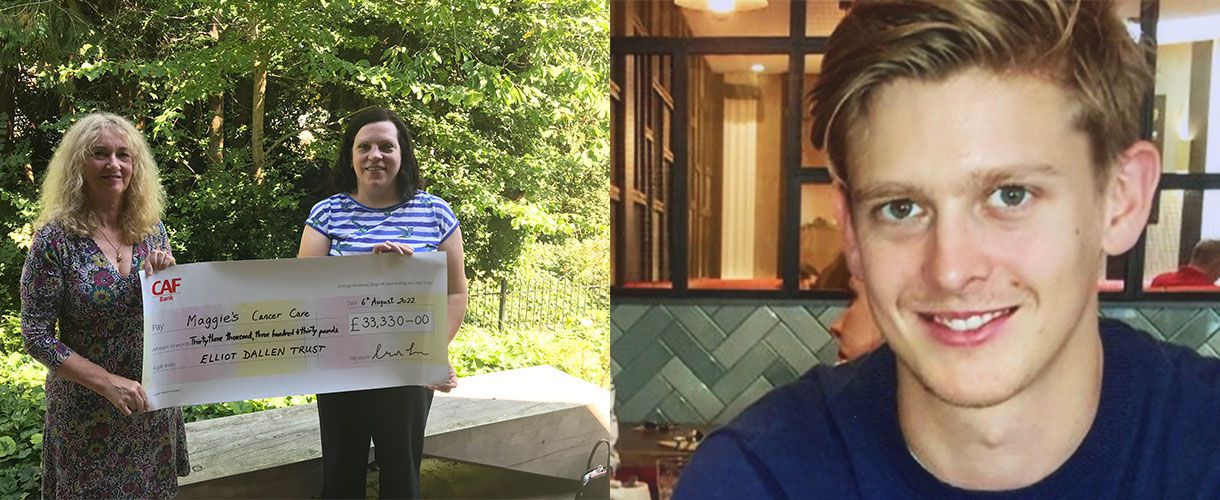 The Elliot Dallen Trust has donated £33,330 to Maggie's Cardiff, the money will help to fund the centre's psychological support team, a service which Elliot found invaluable when given his incurable diagnosis in 2018, aged just 29 years old.
---

The Elliot Dallen Trust
Elliot's mother Jen, father Pete and sister Annabel set up the Elliot Dallen Trust, a charitable foundation, in order to fulfill Elliot's wish to continue donating to charities, particularly those which supported him during his illness, or which shared his values.
Elliot inspired many people by the positive way he dealt with his illness and for his passion for life. 
Elliot's sister, Annabel, said Elliot decided to document his experience of living with cancer in a blog called "The Cortisol Diaries". He also had two articles published in The Guardian which received thousands of lovely comments from people from all over the world.
Subsequently, money has been raised for the Trust by Elliot's friends or donated by people inspired by his determination to push himself out of his comfort zone during the last two years of his illness.
Elliot's mother, Chair of the Elliot Dallen Trust, said: Elliot was such an amazing and inspiring son. Soon after receiving his diagnosis he said to me, "Mum, I'm not dying of cancer, I'm living with cancer, and that's the way he looked at his life. He focused on being positive and active, packing ten years' worth of life into his last two years. In between several grueling chemotherapy treatments he travelled throughout the world, often with one or more of his many friends, and lived life to the full. Elliot told me those last years were among the best he'd had.

That is what we hope the Elliot Dallen Trust will do for other people – to inspire them to live life to the full, to have hope and to push themselves out of their comfort zone. If we can inspire more people with Elliot's story then that will be a brilliant legacy for my son to have left.

Supporting Maggie's Cardiff
Elliot was living in London at the time of his diagnosis and treatment, and so he visited Maggie's Barts for psychological support.
His mother said "Elliot told me that this support helped him build the emotional strength and positive outlook which enabled him to enjoy those last years."
The Elliot Dallen Trust's donation is to Maggie's Cardiff centre, the city where Elliot grew up.
Rachael Davies, Centre Fundraising Manager at Maggie's Cardiff said: We are so grateful for the incredibly generous donation from the Elliot Dallen Trust. The money will help us to support more people living with cancer across South Wales – and their family and friends – with psychological support, which research has shown is so important to helping people live better with cancer.

Mental challenge of cancer
Last year (April 2021) Maggie's conducted a survey that showed 3 in 5 (58%) people who have or have had cancer feel that the mental challenge of cancer is harder to cope with than the physical treatment and side effects.
Despite the strain placed on mental health as a result of a cancer diagnosis and treatment, 52% of people with cancer felt there was support for the physical impact of cancer but not the emotional effects of cancer.
Furthermore, 47% of people with cancer didn't know where to go for mental health support.

Here with you
We're here to support you, your family and friends through the emotional and practical challenges cancer can bring.
Come and see us at your nearest Maggie's, you don't need an appointment, just come in.
Call us on 0300 123 180 or email us at enquiries@maggies.org. 
Find a centre
To find your nearest Maggie's centre, enter your postcode or town below.
Keep in touch
Stay up to date with our news and fundraising by signing up for our newsletter.
Sign up