This is the first in a series of mini blogs from  Lesley Howells, Maggie's Lead psychologist. 
Lesley has put together a number of  ways  to manage when everything feels overwhelming  and we will be posting these over the next few days.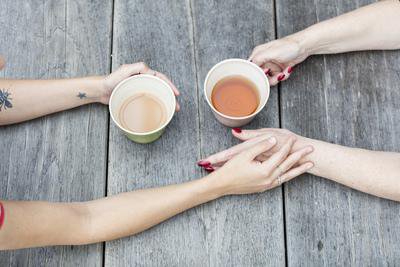 When it all feels overwhelming ....... Reach out!
Resilience in tough times is all about asking for help, reaching out,
Share your worries with people you trust. Putting difficult thoughts and feelings into words is one of the most powerful ways of finding a helpful and confident mindset and strength you didn't realise you had. By having the courage to share your distress and difficult thoughts you are generously offering others  around you  the confidence to share their own concerns and so feel less alone. Then together you can find workable solutions or simply be present with each other, providing the extraordinarily valuable space to be fully heard and not judged.
Watch this short video  ''FACE COVID' How to respond effectively to the Corona crisis'  by Dr Russ Harris, author of The Happiness Trap. It gives invaluable ideas for helping ourselves but also to offer to those close to us. 

Reach out and talk to us here at Maggie',  we can't   see you in our centres  at the moment but we are still here for you.  You can  contacts here via the online community, or by telephone or email  to your nearest centre or give our general support team a call  Tel: 0300  123 1801