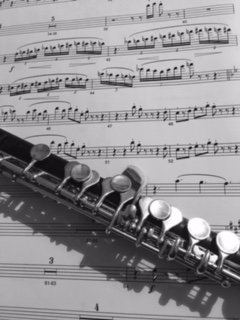 ''Music is the shorthand of emotion'' ( Leo Tolstoy)
''Music can name the unnameable and communicate the unknowable''. (Leonard Bernstein)
The above quotes touch on an aspect of music that science is now catching up with.

Most of us will have experienced hearing a piece of music and experiencing an unexpected emotion perhaps crying at music in a film, or having a flashback to a school disco years ago as you somehow remember the words to a song on the radio.
With advances in technology it is now possible to use scans to actually show changes that take place in our brains as we listen to music.
Studies have shown the effects of music include reducing pain, aiding sleep and relaxation, boosting mood, improving self esteem and confidence and that it can both raise and lower blood pressure – Music has therefore been shown to have both physical and emotional effects.
I am a musician, for me sitting in the middle of a classical orchestra or a band in a show is like being in a protective bubble of sound. When on my own the music that I play, listen to, or write, reflects my mood , helps me focus, relax, express myself, think things over or offers welcome distraction.
Music therapy is a specialised area where professional practitioners use music to influence emotions and the way your body reacts to them it has traditionally been used in education and treatment of Autism and dementia however in recently years it has also been used for pain management and bereavement support and also for with people with cancer - not to treat the cancer itself but to help manage symptoms and improve wellbeing.
Music can of course also be enjoyed and help you to feel better outside of formal therapy. Many of our Centres run singing groups. You don't need to have experiences of being in a choir to join and it can be an easy way of meeting others in a similar situation to you. As I write there are restrictions for choirs following covid however many community choirs are available online . You could also see what groups there are locally for singing or playing an instrument.
Playing or listening to music at home can also help you to relax or to express how you are feeling when the words aren't there. You could write a song or make a mix tape ( oh how I show my age - a playlist! ) of your favourite music/songs, for you, or perhaps for someone else with cancer to listen to during treatment/scans or whilst waiting for an appointment
Whatever your emotion or taste in music there will be something out there for you.
I'd love to hear of your musical experiences, meanwhile the links below will help you to find out more about the emotional and physical effects of music, music therapy and how music can help following a cancer diagnosis.
Best wishes
Robyn
if you are interested in finding out more about Music therapy you may find the links below useful.
British Association of music therapy website
Cancer research UK ( CRUK ) Music therapy and cancer

Greatist: Health benefits of music blog
Harvard medical school : Music and health a summary of areas of research into music and health
My audio sound How music helps with mental health:Mind boosting benefits of music therapy
Blog updated July 2020