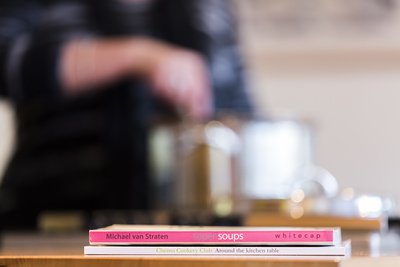 Following on from the chicken broth recipe and preparing for Chemotherapy, in this blog I thought I would include other nourishing comforting recipes that could be frozen ahead of treatment.I have chosen them specifically for their benefits to the immune system as well as being comforting and simple to make.
Always label the food well and freeze in suitable sized containers according to how you want to use them.
Thai mushroom broth
(from 'The Low GL diet book' by Patrick Holford) (serves 1 generous)
As we know mushroom contain a compound called Beta Glucan which has been shown to boost the immune system.

300mls/ ½  pt water
2 tsps of bouillon stock powder
1 tsp of mirin (available from most super markets)
2 tsps of tamari or soy sauce
1 clove garlic finely sliced
1 tsps of fresh root ginger grated
50g/ 2oz mixed mushrooms (shiitake. Oyster, chestnut)
Place all of the ingredients in a pan and bring to the boil and then reduce to a simmer for 10min. Then serve or freeze for another day.
When defrosted serve with some fresh coriander (optional) or add some cooked rice (which you may have frozen in a portion size) to make a substantial light meal.

Lentil stew (serves 4 but can easily be doubled)
Serve with whole meal spaghetti or a baked jacket potato or some cooked rice. This is a comforting dish packed with protein from the lentils and vitamins, minerals and phyto nutrients from the vegetables.
You could add more stock to make this into a soup consistency to use as a light snack.
Ingredients:
1 tsp of coconut or olive oil
1 clove garlic crushed
1 green pepper diced
1 carrot diced
1 onion finely chopped
1 stick celery diced
125g of red split lentils
2 tsp of vegetable bouillon powder
180ml of water
1 tsp of dried mixed herbs
12 cherry tomatoes roughly chopped
1 ½ tbsp of tomato puree
Black pepper.

Heat the oil in a large pan and saute the garlic and onion for 2 min till soft.
Add the pepper carrot and celery and cook for 2 more mins
Add the lentil, stock powder, water and herbs, stir well and bring the mixture to the boil uncovered for 10 min
Add the tomatoes and tomato puree, cover the pan, reduce the heat and simmer for another 15-20 min until the stew is thick and the lentils completely soft.
Cool and serve in portion sizes.
 
Traditional fish pie
but with an extra healthy twist, adapted from the book called 'Nourish' by Christine Bailey. It will freeze well for up to a month. It is a protein rich dish, light and easy to eat. The sweet potato and tahini make it very nutrient dense.
Defrost and bake in a preheated oven gas 6/ 180'C till piping hot and bubbling.
Ingredients
2 tbsp of olive oil or coconut oil
1 onion finely chopped
1 leek thinly sliced
1 ¼ lb of mixed fish eg  salmon, coley, smoked haddock, prawns. (you can buy fish pie mixed fish packets in the super markets). In large chunks
¾ pt almond milk (or any plant based milk of your choice)
2 level tbsps of wholemeal flour
4 tsp of whole grain mustard
1 handful of dill leaves chopped
Pinch of freshly grated nutmeg
Seasoning
2 large sweet potatoes
1 tbsp of tahini
Method
Peel dice and boil the sweet potato for 10-25 mins till soft, drain and set aside.
Poach the fish in the milk for 10mins till just cooked. Drain and save the milk for the sauce.
Heat the oil in a pan add the onion and leek and cook gently for 5 mins. Add the flour and cook for another minute.
Take the pan off the heat and slowly add the milk that the fish was poached in, mixing well between each addition. When all the milk has been added put the sauce back on the heat and bring to the boil stirring all of the time. Add the mustard, nutmeg and dill.
Take off the heat and gently stir in the fish being careful not to break it up.
Put the fish mixture into an oven proof dish or dishes.
Mash the sweet potato with the tahini and carefully spread over the fish base. Add small blobs and then spread carefully.
Bake or freeze.
Serve with a cooked green vegetable like broccoli or kale.

Something for those sweet moments……...
Ginger Almond and chocolate cookie
These are high in protein from the almonds, protein is essential for the functioning of the immune system, and the ginger is ideal for times when you may feel nauseous or just want a light sweet snack.
12oz ground almonds
2 tsp of ground ginger
¾ " piece of fresh root ginger grated.
½ tsp salt
½ tsp baking powder
4 oz dark chocolate chips or broken walnut pieces
3 ½ tbsp of tahini or almond nut butter
5 oz of coconut oil melted
3 tbsp of agave syrup.
Method
Preheat the oven gas6/180'C and line a large baking tray with parchment paper.
Put the almonds in a bowl with the ground and fresh ginger, salt Baking powder and chocolate chips.
Mix the remaining ingredients together, pour into the almond mix and mix well together.
Form the dough into walnut sized balls and press down lightly to form a little cookie.
Put on the baking tray and bake 12-15mins. Cool on the baking sheet then store or freeze in  rigid container.

These recipes are the tip of the iceberg so to speak perhaps share some you have found useful
Blog originally written by Caroline September 2014