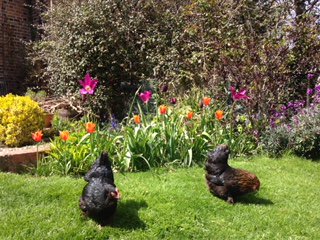 After some rather over-enthusiastic gardening this weekend I feel rather achy today so I thought time to remind myself of the benefits of being out in the garden

So what are the health benefits of gardening?
Studies have shown evidence that gardening as well as improving general health can help reduce both stress and anxiety, refocus attention when we feel overwhelmed, boost mood and improve balance.
Produce from the garden can also be healthy - Many fruit and vegetables and herbs are easy to grow and some can be grown in pots or window boxes.
In terms of exercise, you don't need to overdo it as I did. As long as you avoid heavy digging and landscaping etc and also being out in very hot temperatures, gardening can be great low impact exercise and something to do for anyone convalescing from surgery or between treatments as garden tasks come in all shapes and sizes.
It can also be a way of being sociable whilst also having a task to focus on and, as it is enjoyable it is an activity that is likely to be continued.
At this time of year, there is plenty to be done in the garden as greenery and flowers appear from nowhere – my garden seems to have something new every day (and quite a few that I didn't plant but that's another matter). If you don't have your own garden there are also a growing number of community groups gardening in social spaces, there may be a gardening for health group near you or perhaps you have room for some pots or a window box.
Our centres
Those of you who have visited our physical Centres will know that most (not online of course) are set in beautiful gardens as we know that the space around us (whether inside or out) creates an environment that in turn helps our visitors to find the emotional space they need
You may also be interested to have a look at some of the books below to find out more about how gardening can benefit you during or after treatment for cancer.
Last year, journalist and keen gardener Kirsty Wark, and visitors at some of our gardening groups took part in a podcast for Maggie's, talking about how gardening – and simply enjoying the garden – can help people to live well with cancer. You can listen to the podcast here.
Best wishes
Robyn
The Cancer Survivor's Garden Companion: Cultivating Hope, Healing and Joy in the Ground Beneath Your feet by Jenny Peterson Published 4 Jan 2016
Blooming into Mindfulness: How the Universe Used a Garden, Cancer, and Carpools to Teach Me that Calm Is the new happy by Martha Brettschneider Happy Paperback published 29 Jan 2016
Gardening For Health: The Need to Know Guide to the Health Benefits of Horticulture: Volume 2 by Angela Youngman Paperback published 10 Apr 2013
The Goodbye Cancer Garden a childrens book published 1 Mar 2011 By Janna Matthies (Author), Kristi Valiant(Illustrator)
The wellness garden Grow, Eat, and Walk Your Way to Better Health Paperback Dec 2017 by Shawna Coronado
Gardening for mindfulness Mar 2017
by Holly Farrell (Author), The Royal Horticultural Society